Tickets:
Related Events:
Gallery 101: Linda Carreiro, David Diviney
More Dates & Times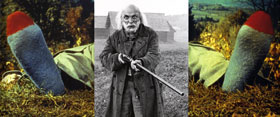 Gallery 101 presents current practices of artists from Canada and abroad and promotes a critical approach to cultural conventions and will feature the exhibition of an installation by Linda Carreiro, Calgary, and recent works by David Diviney.
Rendering the human figure has long been central to Linda Carreiro's work. Her installation Dissection is the latest in a series of pieces that move from her earlier depiction of figures as subjects of narrative and metaphor, to the human body as a site of a cultural and personal discourse.
Linda Carreiro is pursuing cross-disciplinary research in art and anatomy. Her creative research has culminated in recent solo exhibitions across Canada. Awards include: Manitoba Arts Council and Alberta Foundation for the Arts project grants, major scholarships from the University of Alberta and research grants from the University of Calgary. Currently, she is Assistant Professor at the University of Calgary. There will be an artist talk at 17:30 on Thursday 28 April.
Using sculptural tools, David Diviney explores object relations that suggest narrative, sometimes humorous and/or parodic structures. His story lines are often left broken, awaiting repair. The work that constitutes the exhibition Decoy at Gallery 101 reflects upon these concerns, as the artist transforms various vessels. David Diviney, obtained an MFA from the Nova Scotia College of Art and Design and currently lives in Lethbridge. Diviney's other body of work is currently on view at AxeNéo7 (Gatineau) and The Ottawa Art Gallery. Artist talk: Thursday 28 April 17:30.