Tickets:
Related Events:
Alberta Artists Seen - on the Mezzanine!
More Dates & Times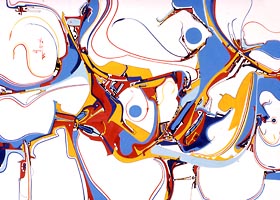 The works displayed on the Mezzanine of the National Arts Centre from the collection of the Canada Council Art Bank are by artists currently living and working in Alberta. Their work is representative of a world view, of a knowledge of international media and content and of a personal investigation of subject matter and technique. These works are not truly representative of an Albertan viewpoint. What these works do represent are the concerns of artists who have chosen an Albertan lifestyle. Of the eight recent purchases from Alberta for the Canada Council Art Bank collection, one artist was born in Alberta and eight now live in Alberta. Project Utopia: Suburban Life by Anya Georgijevic is an example of digitally altered images on a large printed format, possibly typical of a Calgary neighbourhood!
This exhibit features the work : Nathan Birch, Lauren Wuttunee, Dana Holst, Anya Georgijevic, Bradley Harms, David Cantine, Arlene Stamp, Alex Janvier, Joane Cardinal-Schubert, Walter May, Paul Smith, et Chris Cran.