Tickets:
Related Events:
All About Alberta—A Collection of Contemporary Craft
More Dates & Times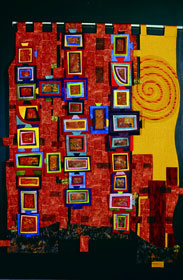 2005 marks the centennial of the province of Alberta and the 25th year of the Alberta Craft Council. To celebrate the province and the craft culture of Alberta, the Craft Council has assembled a travelling exhibition of fine craft reflecting Alberta's intense sense of place… This exhibition gathers iconic and iconoclastic expressions of Alberta…in a wide range of contemporary craft objects, mediums and ideas…vessels, boxes, jewellery, hangings…in glass, leather, clay, wood, fibre, metals…inspired by flying moose, Chinooks, hoodoos, office towers, internment camps, forest fires, dinosaurs, oil wells, and more… "All About Alberta" captures Albertans in all their creative, energetic, diverse, raw, sophisticated, loud, subtle, loveable (or not) personas…in fine craft form.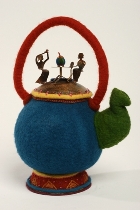 Lyn Pflueger (Bragg Creek), Crys Harse (Calgary) & Valerie Dowhaniuk
tea…and comfortable advice
Felt, copper metal & embroidery
$850
Throughout the history of Alberta, communities have come about to learn and to teach ways of doing things, forming weaving guilds, sewing circles, quilting bees, and many other social groups. Initially for the common purpose of survival in a harsh and meager environment, these communities still share knowledge, skills and love of the crafts which enrich lives. For many immigrants from other cultures, these groups were, and are, surrogate families, giving close ties of friendship and support. Particularly in rural Alberta, overlapping communities have formed networks of belonging and acceptance, linking the newcomers to their new place.
We three, now, have each spent a lifetime learning our very different crafts. Out of this diversity, with one eye on tradition and the other on innovation, we welcome the challenges of collaboration, striving for excellence and rejoicing in friendship.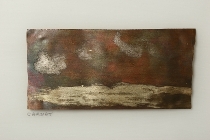 Sarabeth Carnat (Calgary)
Prairie Vista I
Metal Painting Series
Alberta sky and landscape are one of our infinite resources. The quality of light varies with the season and time of day. I am often in a state of awe and wonder at the incredible beauty this light offers. Metal painting is a technique developed by Charles Lewton-Brain. It consists of texturing the metal, applying gold and silver to the copper base with heat, rolling and stretching the metal. They melt together "fusing" forming a new eutectic alloy.
I have used this technique to explore the quality of light and texture of sky and landscape. Impressions of them are infinite and eternal, capturing a moment in time.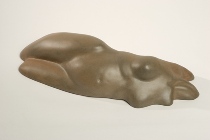 Don Wells (High River)
Foothills as Reclining Nude
Burnished white clay, fired to cone 04
$900
The foothills west of High River have always been an inspiration to me. Whenever I see the rounded, sensuous hills I also see huge, reclining figures with voluptuous thighs, hips, breasts and shoulders, covered with fresh green in spring or the burnt tan of late summer and autumn.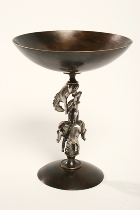 Crys Harse (Calgary)
Life in the West
Sterling silver, jewelers bronze & brass
Tall Goblet - Private Collection
Much of my work comments on aspects of social life. Because I have ridden since childhood the culture surrounding the horse is also very important in my work. Over the past few years, I have completed a group of goblets, boxes and bowls featuring the horse, these have appeared in exhibitions across Canada and Taiwan, Japan, Hong Kong and the United States.