Tickets:
Price: $20
Related Events:
Come On In My Kitchen: A Celebration of the Blues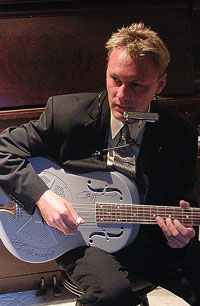 Mark Sterling
Mark Sterling's profile has skyrocketed in the past few years, thanks to well-received performances at the Edmonton and Calgary folk festivals, as well as his acclaimed, self-titled debut CD. He's no rookie, however. He's been playing and studying guitar for 18 years. In 1994, Sterling received his first taste of national recognition when he joined the Toronto pop vocal group Hemingway Corner. Sterling sang, played guitar, and contributed several songs to the band's second album, 1995's, Under The Big Sky. "We had fun and we loved singing three-part harmonies," says Sterling, "but I wanted to make my own record." So he moved back to Edmonton and was determined to find his own voice within the acoustic blues genre. He's done that and more, and he's about to prove it at Alberta Scene.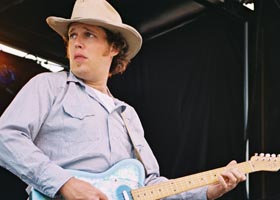 Steve Pineo Trio
Calgary blues and roots rocker, Steve Pineo has it all says Mike Ross of the Edmonton Sun. "He sings well, plays guitar like he sleeps with the thing, and writes excellent songs." "He's a great singer and instrumentalist—he managed to capture the essence of legends without sounding derivative. That's a gift!" adds Keith Glass of Prairie Oyster. Steve will be sharing that gift with Ottawa fans while sharing the stage with Amos Garrett.

www.indeliblemusic.com/stevepineo.html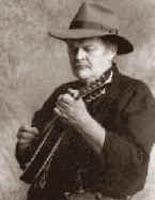 Tim Williams Trio
Juno nominee, Tim Williams has made Calgary his home for more than a decade. He possesses an arsenal of stringed instruments, a vast repertoire of blues, rags and original songs, and an evening's worth of anecdotes ranging from the hilarious to the historical. He's appeared with B.B. King, Taj Mahal, Junior Wells, Buddy Guy and many more. Add comic Steve Martin, Jazz musicians Larry Coryell and Mose Allison, Bluegrass giant Earl Scruggs, and songwriters such as Jimmy Dale Gilmore to that list and you get an idea of Tim's depth of talent—a talent that will be on full display during Alberta Scene.

www.go.to/twilliamsblues.com