Tickets:
Price: $20
Students tickets are half price for this event
Related Events:
Juliette Kang, violin, in recital
PROGRAMME
LUTOSLAWSKY Subito for violin and piano (1994)
BACH Sonata for violin solo in C Major BWV 1005
Adagio
Fuga Alla Breve
Largo
Allegro Assai
MESSIAEN Louange à l'immortalité de Jésus for violin and piano (excerpt from Quatuor pour la fin du temps)
Intermission
JANACEK Sonata (1913) for violin and piano
Con Moto
Ballada - Con Moto, Allegretto
Adagio
RAVEL Tzigane, rhapsodie de concert for violin and piano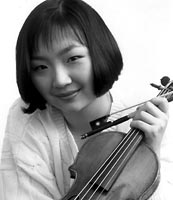 Juliette Kang
Juliette Kang has impressed audiences around the world with her exquisite interpretive insight and technical mastery. Born in Edmonton, Juliette has been featured as soloist with every major orchestra in Canada, along with an array of respected orchestras internationally. An especially sought-after recitalist, Juliette's engagements include New York's Carnegie Hall, the Kennedy Center, Tokyo's Suntory Hall, Boston's Gardner Museum and New York at the 92nd Street Y. Coupled with being the recipient of a broad spectrum of prestigious awards, including a gold medal at the International Violin Competition in Indianapolis and first prize at the Menuhin Violin Competition in Paris, recording artist Juliette Kang was appointed Assistant Concertmaster of the Boston Symphony. Juliette is becoming a familiar face in the Ottawa classical scene, as her appearances at the National Arts Centre are proliferating. In 1993, Juliette performed for a CBC/NAC Debut Series, and returned two years later to make her NAC Orchestra debut with Trevor Pinnock. For a sneak peek at this fantastic young violinist, she will be joining NACO as guest concertmaster in February. Don't forget Mom--this concert makes the perfect Mother's day gift!

www.moabmusicfest.org/Artists/Kang.htm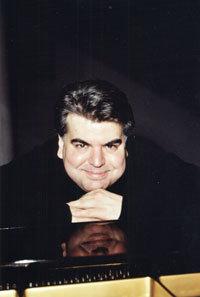 Jean Desmarais
Jean Desmarais is a versatile pianist in demand as a soloist, chamber musician and in the challenging role as an accompanist.
He studied at the Conservatoire in Hull, where he received his Bachelor's Degree and later at the Conservatoire de Montréal, where he earned his Masters degree and the Premier Prix in Piano and Chamber Music.  He studied in Paris from 1990 until 1992.
He has a particular interest in new music and was a member of the Pierrot Ensemble and has performed more than 40 world premieres of Canadian Music.
As a soloist Jean Desmarais has performed frequently with orchestras in Canada, Romania, Poland and appears regularly with the Orquesta Filarmónica del estado de Chihuahua in Mexico. Jean Desmarais is regularly featured on CBC.SRC recordings, at the Ottawa International Chamber Music Festival (last 6 years) and the National Arts Centre's Music for a Sunday Afternoon series.As a collaborative pianist he has worked with many artists including Kiri Te Kanawa, Ben Heppner, Donna Brown, Amanda Forsyth, Susan Graham and many other talented musicians.
As a piano teacher, Jean has taught young pianists from Grade 10 to post-Masters level.  He was on the faculty of the department of music at the University of Ottawa (1998-2004) and the Music Director for the young artists programme for Opera Lyra and the University of Ottawa (1999-2003). He is presently teaching at Carleton University.