Tickets:
Price: $5
Related Events:
Jessica Linnebach, violin, in recital
PROGRAMME
BEETHOVEN Sonata for piano and violin No.8 in G Major, Op. 30 No.3
Allegro assai
Tempo di Minuetto, ma molto moderato e grazioso
Allegro vivace
CHAUSSON Poème for violin and piano
RAVEL Sonata for violin and piano
Allegretto
Moderato-Blues
Perpetuum mobile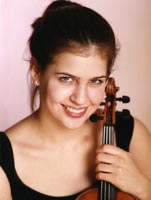 Jessica Linnebach
Since beginning her violin studies in Edmonton at the age of two, young Canadian violinist, Jessica Linnebach, has entranced audiences on three continents with her depth of interpretation and artistry. In October 2000, Jessica traveled as guest soloist with the National Arts Centre Orchestra under the direction of Pinchas Zukerman on their historical tour of the Middle East and Europe. Ottawa music enthusiasts will recognize Jessica, as she now holds a position with the National Arts Centre Orchestra, is an alumni of the NAC Young Artists Programme and member of the highly acclaimed Zukerman Chamber Players. Jessica also holds a Master of Music degree from the Manhattan School of Music, where she studied under the tutelage of Pinchas Zukerman and Patinka Kopec. Jessica plays the ca. 1700 Bell Giovanni Tononi violin, as a prize awarded from the Canada Council for the Arts Musical Instrument Bank. Beethoven's Sonata No. 8 in G minor and Ernest Chausson's Poème will be performed by Jessica and highly-acclaimed Ottawa-based pianist, Jean Desmarais.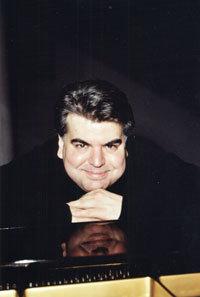 Jean Desmarais
Jean Desmarais is a versatile pianist in demand as a soloist, chamber musician and in the challenging role as an accompanist.
He studied at the Conservatoire in Hull, where he received his Bachelor's Degree and later at the Conservatoire de Montréal, where he earned his Masters degree and the Premier Prix in Piano and Chamber Music.  He studied in Paris from 1990 until 1992.
He has a particular interest in new music and was a member of the Pierrot Ensemble and has performed more than 40 world premieres of Canadian Music.
As a soloist Jean Desmarais has performed frequently with orchestras in Canada, Romania, Poland and appears regularly with the Orquesta Filarmónica del estado de Chihuahua in Mexico. Jean Desmarais is regularly featured on CBC.SRC recordings, at the Ottawa International Chamber Music Festival (last 6 years) and the National Arts Centre's Music for a Sunday Afternoon series.As a collaborative pianist he has worked with many artists including Kiri Te Kanawa, Ben Heppner, Donna Brown, Amanda Forsyth, Susan Graham and many other talented musicians.
As a piano teacher, Jean has taught young pianists from Grade 10 to post-Masters level.  He was on the faculty of the department of music at the University of Ottawa (1998-2004) and the Music Director for the young artists programme for Opera Lyra and the University of Ottawa (1999-2003). He is presently teaching at Carleton University.