Tickets:
Price: $15
Related Events:
Los Morenos, Conundrum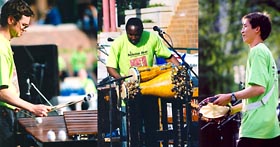 Conundrum
This unique collaboration greets listeners with a sensuous array of musical ideas and cultural influences. Brent Van Dusen, Morag Northey-Taylor and Malcolm Lim create inspired soundscapes that draw from classical melodic sentiments, world music and jazz. The group had its genesis when Brent and Morag met at the Banff Centre and recognized a synergy stemming from the desire to honour the spiritual through music. Conundrum uses permutations of cello, percussion, voices, synthesizer and computer enhancements to express original compositions, improvisations and poetic songs. The group strives to create "provocative beauty" while delving ever deeper.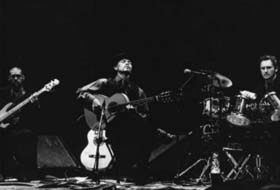 Los Morenos
Los Morenosís show really gets the crowd involved, with their lush percussive force, itís a bet you wonít be able to keep your feet and hands still. With their upbeat rhythmic style of World Infused Rumba, Flamencao, Los Morenos have been carving out a name for themselves in Western Canada music circles. Crossing several stylistic barriers, the group's mix of traditional flamenco, contemporary jazz, funk, rumba and Eastern sounds is delighting audiences and attracting a larger circle of fans, both live and through their two CDs. A night to remember!

www.losmorenosmusic.com