Tickets:
Price: $15
Related Events:
Amir Amiri Trio, The McDades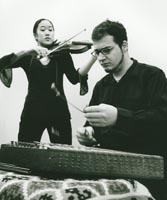 Amir Amiri Trio
Amir Amiri is one of the most exciting and diverse musicians in Canada today. Having studied Indian classical music with Ravi Shankar and subsequently moving to Alberta, Amir received numerous scholarships and and has worked with western classical musicians from around the world. His focus has been to fuse the depth of eastern music with the broad harmonic palette of western music. In this dynamic pairing with the Landís End Chamber Ensemble, he will be performing alongside Linling Hsu on violin and Rebecca Wenham on cello.
Featuring:
Linling Hsu on violin and Rebecca Wenham on cello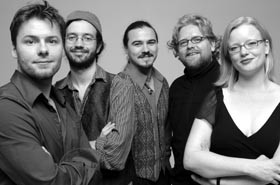 The McDades
The McDades, an Edmonton band consisting of three talented siblings and two very eclectic French Canadian musicians, treat their audiences to everything from modern bluegrass sounds reminiscent of Nickel Creek or Alison Krauss to Tuvan Throat singing, from bowed bass and violin parts that remind you of George Martin's Beatles productions to horn improvisations in the style of the Paul Winter Consort. Their percussion sounds range from frame drums to more modern sounds. Add an upright bass, a master violinist, and a guitarist whose style includes modern Celtic, traditional French Canadian and jazz, and you begin to understand the McDades. They can perform in both French and English and are a festival programmerís dream for the variety they bring to the stage.

www.themcdades.com/
Amir Amiri is a winner of CBC's Galaxie Rising Star Award