Synopsis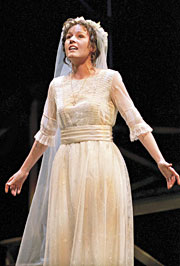 Filumena
Act One, Scene One
Autumn, 1915.
In the park of a small town in the Crowsnest Pass, family and friends celebrate the wedding of Filumena Costanzo to Charlie Lassandro. As festivities proceed, Filumena seems withdrawn, stunned by her new husband's brusqueness. Charlie has given her a new "Canadian" name, Florence, which she clearly rejects. Emilio Picariello, Charlie's boss and a kingpin of the illegal liquor trade, has organized a band to play for the couple's first dance. After the dance, Picariello introduces Filumena to his son Steve and the two young people are immediately drawn to each other. Steve's special "wedding song" is interrupted by the appearance of Constable Lawson of the Alberta Provincial Police, Picariello's nemesis. Later, Filumena, seeing a storm in the distance, reflects on the life she has, and the life she desires to have.
Act One, Scene Two
Winter, several years later.
Picariello, Charlie, McAlpine and a group of bootlegging cronies are gathered in the Alberta Hotel in Blairmore. Picariello notices Filumena's unhappiness and tries to console her. Suddenly several "Whisky Sixes", laden with booze, arrive in the hidden cellar beneath the hotel, and the cronies hasten to bring in the contraband liquor. Picariello talks with Filumena and promises her that, in time, they will live a good clean life, once they have enough money to fulfill their dreams. He suggests that she might help out, by acting as a decoy for the bootleg trade, along with his son Steve. Constable Lawson appears and confronts Pic about getting out of "the business". He inspects the premises, but the bootleggers have had sufficient time to conceal the evidence, and the Constable finds nothing incriminating.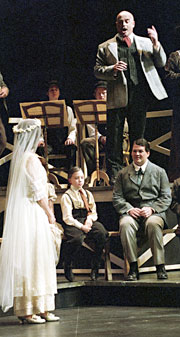 Filumena and Steve
Act One, Scene Three
Early summer, the next year.
In an alpine meadow outside Sparwood, British Columbia, Filumena and Steve are waiting to play their part in the bootlegging business. They have just finished a picnic lunch and are playing a translation game. Filumena wins and, for her prize, Steve sings her the rest of the song which he began on her wedding day.They are passionately attracted to one another, but are interrupted by Picariello and Charlie (his father, her husband) who transfer the bootleg haul from their own vehicle into that of the younger folk, who will now drive it back into Alberta, "disguised as a young couple in love".
Act One, Scene Four
Later, the same summer.
McAlpine, Picariello's head mechanic, and other cronies are campaigning for "the Emperor Pic's" election to the Blairmore Town Council. Meanwhile, in the hotel kitchen, tension builds between Filumena, Steve, and Charlie. The latter is obviously aware of the true nature of the relationship between Picariello's son and his wife. Picariello arrives and addresses a crowd of supporters. Charlie angrily interrupts the speech: he's had enough of all the pretending and posturing. There is a confrontation between him and Picariello, and, later, between Picariello and his wife Maria, who has just realized what is going on between their son and "this married woman". As Picariello and Maria rejoin the election crowd, Lawson appears in the hotel lobby – to meet secretly with Charlie.
Act Two, Scene One
September 21, 1922.
A storm brews in the distance, as Filumena sits alone in the hotel kitchen, waiting for Steve to appear. Charlie enters and tells Filumena that Steve decided to go on what they hope will be the bootleggers' last run; but he should have returned long before now – something must have gone wrong. Maria Picariello appears too, looking for her son, and they summon Picariello from a meeting with the Town Council, to which he has been elected. Suddenly McAlpine arrives, his clothes torn and muddy. He tells them that Constable Lawson chased him and Steve across the border into B.C., shots were fired, and Steve "was hit real bad". Picariello, in a fit of rage, swears to make Lawson pay if he has killed his boy, then grabs Filumena and storms off to the A.P.P. residence in nearby Coleman.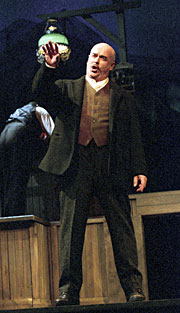 Pic
Act Two, Scene Two
Less than an hour later.
Picariello and Filumena arrive at Lawson's home. Picariello calls the Constable out into the yard. Lawson appears, with his young family clustered behind him. Picariello, who is armed and who has also thrust a pistol into Filumena's hand, accuses Lawson of killing his son. A struggle breaks out among the three of them. A shot is fired and Lawson falls to the ground.
Act Two, Scene Three
Fort Macleod, Alberta
A coffin, borne by Provincial policemen, is followed by Lawson's widow and children. The people of the Crowsnest Pass, of Alberta, and of Canada, react to the sensational news of the murder, speculate on what really happened that night, and on how the perpetrators will be punished.
Act Two, Scene Four
November, 1922.
Maria and Steve Picariello visit Filumena in her jail cell in Calgary. They implore Filumena to take principal responsibility for the policeman's death, and thus to save Emilio's life. He is a man with a wife and children. Filumena realizes that her love for Steve has never been matched by his for her.
Act Two, Scene Five
May 1, 1923
Both Filumena and Picariello have been convicted of Lawson's murder, and are awaiting execution at the penitentiary in Fort Saskatchewan. Filumena thinks of all that she will miss when she is no longer in this world. Picariello is haunted by the series of "mistakes" which led him to this dreadful end; he cannot bear to leave his family and his dreams behind. Prison guards arrive to take him to the gallows. As Filumena prepares for her own death, the sky outside suddenly shimmers with lightning. She remembers how much she always loved a storm, and then lets this last regret go too, in order to depart for a world without storms.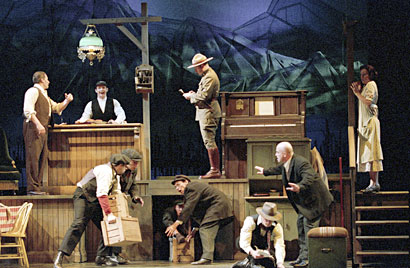 The Banff Centre Chorus
Photo: Don Lee, courtesy of Banff Centre